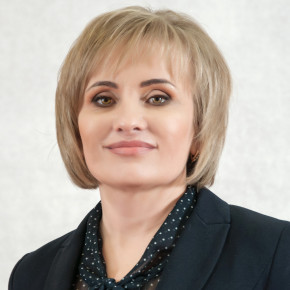 Candidate of Medical Sciences
Administration
In 1993, Elena v. Efimova graduated from the Siberian Medical University, awardee of the Order of the Red Banner of Labour, with a specialization in General Medicine. After that, she studied clinical cardiology as a resident physician and cardiology as a Ph. D. student at Cardiology Research Institute of the Siberian Branch of the Russian Academy of Medical Sciences.
From 1998 to 2005, she worked as a Research Fellow in the Department of Atherosclerosis and Chronic Coronary Artery Disease. After that, she held the position of a Head of Outpatient-Polyclinic Department of Clinic, Deputy Chief Physician for Medical Treatment. Since 2009, she is a Chief Physician of Clinic of Cardiology Research Institute, Tomsk NRMC.
Awards:
2010: Certificate of Merit from the Siberian Branch of the Russian Academy of Sciences
2014: Entering on Board of Honor in the Kirovsky District of the city of Tomsk
2015: Certificate of Merit from the Ministry of Healthcare of the Russian Federation
2016: Medal «For Contribution to the Development of Cardiology in Siberia»
Articles
Anfinogenova N.D., Trubacheva I.A., Popov S.V., Efimova E.V., Ussov W.Y. Trends and concerns of potentially inappropriate medication use in patients with cardiovascular diseases. Expert Opinion on Drug Safety 2021;20(10):1 191-1 206.