Head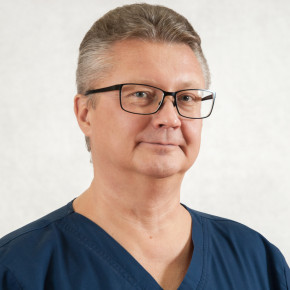 Candidate of Medical Sciences
H-index: RSCI 3
The department represents a clinical base for scientific subdivision of the Department of Interventional Arrhythmology.
Characteristics of the department
The department occupies 2.5 floors and has 55 beds of surgical profile, intensive care unit for six beds, and surgery department with two X-ray surgery rooms. The staff of the department comprises 1 physicians, 39 medical nurses, and 15 members of the junior medical personnel.
The Department of Interventional Arrhythmology is a specialized (Regional Arrhythmology Center) and designed for diagnostics and treatment of patients with severe cardiac rhythm and conduction disorders. People who are hospitalized to the department mostly come from Tomsk, Tomsk Region, Siberia, Far East, and other regions of the Russian Federation and Commonwealth of Independent States.
Areas of clinical activities
1. Clinical electrophysiology of arrhythmias and diagnostic cardiac pacing.
2. Treatment of arrhythmias by the methods of temporal and permanent cardiac pacing, defibrillation, and cardioversion.
3. Surgical treatment of cardiac rhythm disorders:
— Radiofrequency ablation and cryoablation of paroxysmal tachycardias and tachyarrhythmias.
— Implantation of cardioverters-defibrillators in patient with life-threatening heart rhythm disorders.
— Implantation of electrocardiostimulators for bradycardia and bradyarrhythmias.
4. Development and implementation of new methods of diagnostics and treatment of heart rhythm disorders to practical healthcare.
5. Providing 24-h medical emergency services for treatment of patients with acutely developing cardiac arrhythmias.